全部
全部
产品管理
新闻资讯
介绍内容
企业网点
常见问题
企业视频
企业图册




K Type Rubber Sealing Ring
K Type Rubber Sealing Ring
Commodity name:

K Type Rubber Sealing Ring
Material:SBR\EPDM\NBR

Specification:DN100-DN2600

The K Type Rubber Sealing Ring is a superior sealing solution designed to meet the stringent requirements of various industries. This rubber sealing ring boasts exceptional performance and reliability, making it an ideal choice for numerous applications.
With its K-type profile, this sealing ring is engineered to provide a secure and tight seal in high-pressure and high-temperature environments. It is manufactured premium rubber materials that offer exceptional to chemicals, oils, extreme temperatures, ensuring long-lasting durability and performance.
The K Type Rubber Sealing Ring wide application across industries such automotive, aerospace, marine, and manufacturing. is commonly used in flanges, pumps, compressors, and systems, providing reliable sealing performance under demanding conditions.
One unique selling point of this product is its ability to withstand extreme conditions without compromising its sealing capabilities. excellent resilience ensures a tight seal effectively preventing leakage and ensuring integrity. Moreover, the K Type Rubber Sealing Ring is designed for easy installation, both time and effort during assembly.
Choosing the K Type Rubber Sealing Ring offers numerous benefits, including enhanced operational, reduced maintenance costs, improved system performance. Its exceptional properties provide reliable protection against leaks, contamination, and environmental factors ensuring smooth and safe operations.
In summary, the K Type Rubber Sealing Ring is a top-of-the-line sealing solution that excels in performance, durability, and adaptability. With its broad application range and outstanding sealing properties, this product is the preferred for industries seeking reliable sealing solutions for demanding environments. Choose this sealing ring to achieve optimal performance and peace of mind in your applications.
Company Profile
Xingtai Rubber Factory was established in 1962. It was originally a state-owned enterprise. In 2001, it was restructured into a joint-stock cooperative enterprise. It covers an area of more than 40,000 square meters and a construction area of 26,000 square meters. Fixed assets of 110 million yuan, 200 registered employees, 50 professional and technical personnel.
Workshop Real Shot

Sales Network
The main products of our factory are: pipe rubber sealing ring, rubber roller, polyurethane and other rubber products. With advanced testing and inspection instruments and a special rubber engineering technology research center, it has formed a one-stop business model integrating R&D, production and sales. It is a professional manufacturer of pipe series sealing rings in China. Among them, the rubber sealing rings for water supply and drainage pipes developed and produced in 1985, which are matched with ductile iron pipes, are sold to all provinces, municipalities and autonomous regions across the country, and exported to the United States, Canada, Brazil, Singapore, the Middle East and other countries and regions. It is widely recognized in the same industry. Cots and polyurethane products have also won praises from customers for their high quality, reasonable price and good service.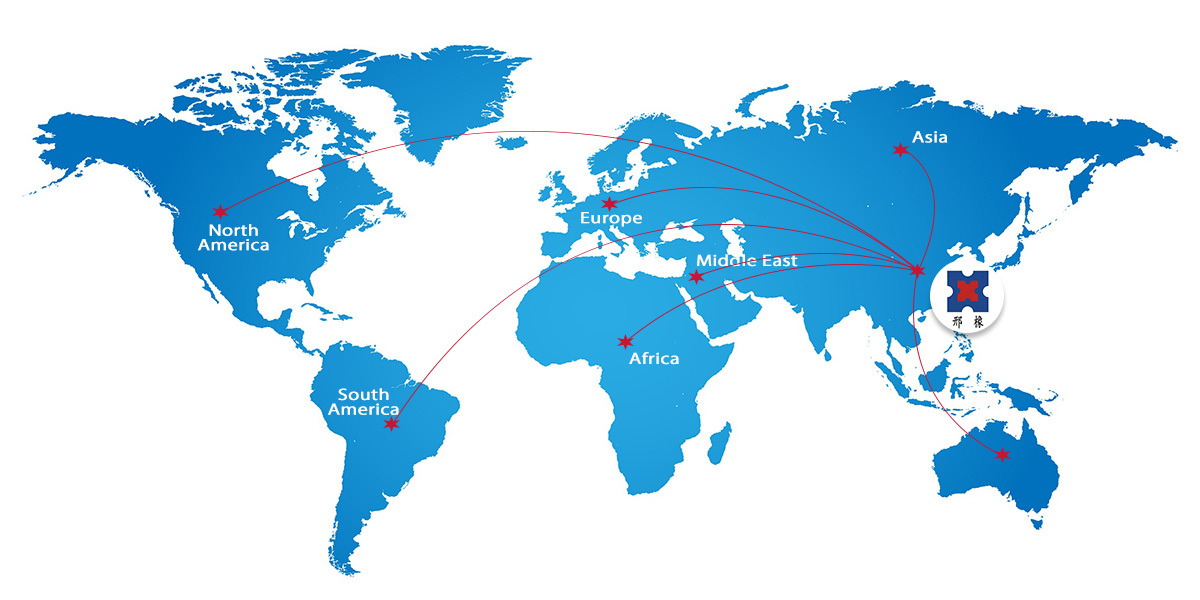 Quality Control
★ Passed the 1S09001 quality system certification in 2000, and has formed a perfect quality management system after three version changes.
★ In 2007, our factory participated in the formulation of the standard GB/T21873-2008 "Rubber seals, joint seal rings for water supply, drainage pipes and sewage pipes - material specification".
★ In 2009, the rubber sealing ring of water supply and drainage pipes of our factory passed the BV product certification.
★ In 2013, the product passed the British WRAS water quality certification.
★ In 2014, it obtained the sanitation approval document for aquatic products.

★ Passed the 1S014001 environmental management system certification in 2016, and passed the high-tech enterprise certification in the same year.
★ Passed the ISO45001 occupational health and safety management system certification in 2017.
★ In 2020, participated in the formulation of the "14th Five-Year Plan" development plan for the cast pipe and pipe fittings industry, and participated in the formulation of the standard T/CFA 020102028-2020 "Slip-off rubber seal ring for flexible joints of ductile iron pipes".
★ In 2021, participate in the formulation of the standard T/CISA 108-2021 "Socket Flexible Interface Corrosion-resistant Steel Pipe for Water Supply and Drainage".
★ In 2022, it was certified as a specialized, special and new enterprise, and participated in the formulation of the T/CFA "Quality Classification and "Top Runner" Evaluation Requirements - Rubber Seals for Flexible Joints of Ductile Iron Pipes".
★ Participated in the formulation of the standard T/CSCS 042-2023 "Socket Flexible and Lap Welded Joint Corrosion-resistant Steel Pipes for Water Supply and Drainage", and the 2023 Enterprise Standard Q/XX001-2022 "Rubber Sealing Rings for Flexible Joints for Ductile Iron Pipes and Fittings" Won the 2022 enterprise standard "leader" certificate of China Foundry Association.